Finance Department is the part of an organization that is responsible for acquiring funds for the firm, managing funds within the organization and planning for the expenditure of funds on various assets. It is the part of an organization that ensures efficient financial management and financial control necessary to support all business activities.
Staff Composition
Finance secretary
Finance Manager
Financial Accountant
Grant Accountants
Cashier
Account assistant
Objectives
1. To transform the department from manual accounting system to a modern computerized accounting system by 2025
2. To ensure that all funds inflows and outflows are properly recorded and accounted for
Mission
To support the Diocese to attain a self-reliance.
Core Values
Honesty and integrity
Hard work
Accountability
Customer cure
Secrecy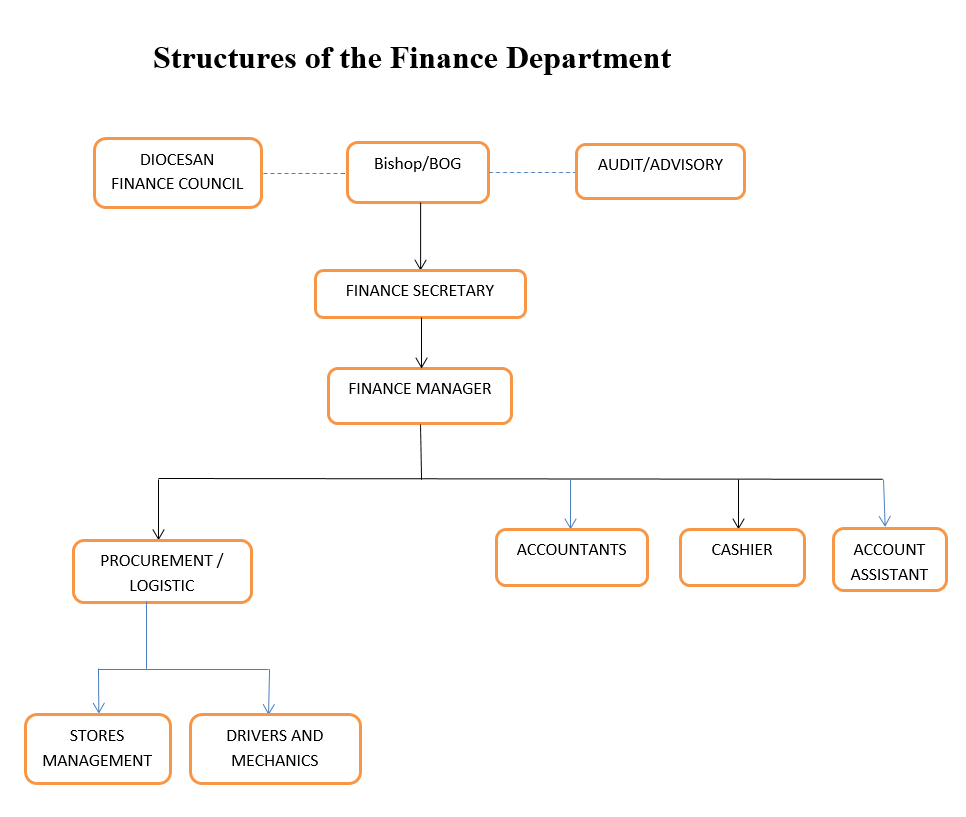 Roles and Responsibilities of a Finance Department
The contributions of finance department to CDTY  and how these contributions positively affect organizational performance is greatly depend on factors such as the extent to which the owner/ managers are involved. The roles and responsibilities of a finance department include but are not limited to:
a. Bookkeeping
This is the most basic function of the finance department. It involves the day-to-day recording, analysis and interpretation of a CDTY/CODEP's financial transactions. This will include the tracking of all expenses (purchases, payments etc.).
b. Management of CDTY/CODEP's cash flow
It is the duty of the finance department to manage all cash flows into and out of the organization and ensure that there are enough funds available to meet the day-to-day running of the organization.  This area also encompasses the credit and collections policies for CDTY's customers, to ensure that vendors and creditors are paid correctly and on time; and that the company is also paid correctly and as when due.
c. Budgets and forecasting
In this function, the finance department works with managers to prepare the projects's budgets and forecasts and also give feedback with regards to the financial standing of CDTY. This information can be used to fulfil the cash needs of each department, plan CDTY staffing levels, plan asset purchase and expansions at minimum cost before they become necessary.  The finance department can also use past records from respective departments to make better budget and forecast over long-term and short-term time horizons.
d. Advising and sourcing longer-term financing
It is the duty of the finance department to advise companies on the best financing mix that could yield CDTY best Result and also help them source longer-term financing at the lowest cost such that there is a Surplus level of liquidity.
e. Management of Taxes
It is the duty of the finance department to handle tax issues. This includes creating good corporate relationships with government by remitting PAYE (Pay As You Earn) to the relevant authority, and ensuring that implementation of tax matters are done within the framed policies.
f. Management of CDTY's Investments
Apart from analyzing and selecting new investments, it is also the duty of the finance department to manage CDTY's existing assets. The finance department should be concerned with current assets apart from fixed assets. The working capital needs to be managed efficiently in such a way as to maximize profitability relative to the amount of funds tied up since it has more implication on the firm liquidity than its fixed asset.
g. Financial Reporting and analysis
Financial reporting and analysis is the function that takes raw accounting entries and transforms them into meaningful, usable and comparable financial statements. The finance department contributes to organizational growth by measuring and reporting on regular bases, key numbers that are vital to the success of CDTY. This will likely include a summary of all funding sources, expenditures and reserves available for future use (excluding those already committed and budgeted for current period) some non-financial information.  And are usually communicated to managers in a logical and understandable format.
h. Assist managers in making key strategic decisions
The finance department provides CDTY management with information necessary to make strategic decisions such as which projects to pursue, the payback periods for large capital purchases, decision on what should be given out as dividend out of the company's earnings and what to plough back into the business, the best financing mix that could yield the CDTY the nest profit, decision on how to allocate funds to investment etc., thus, making sure that money is being used in the best way.