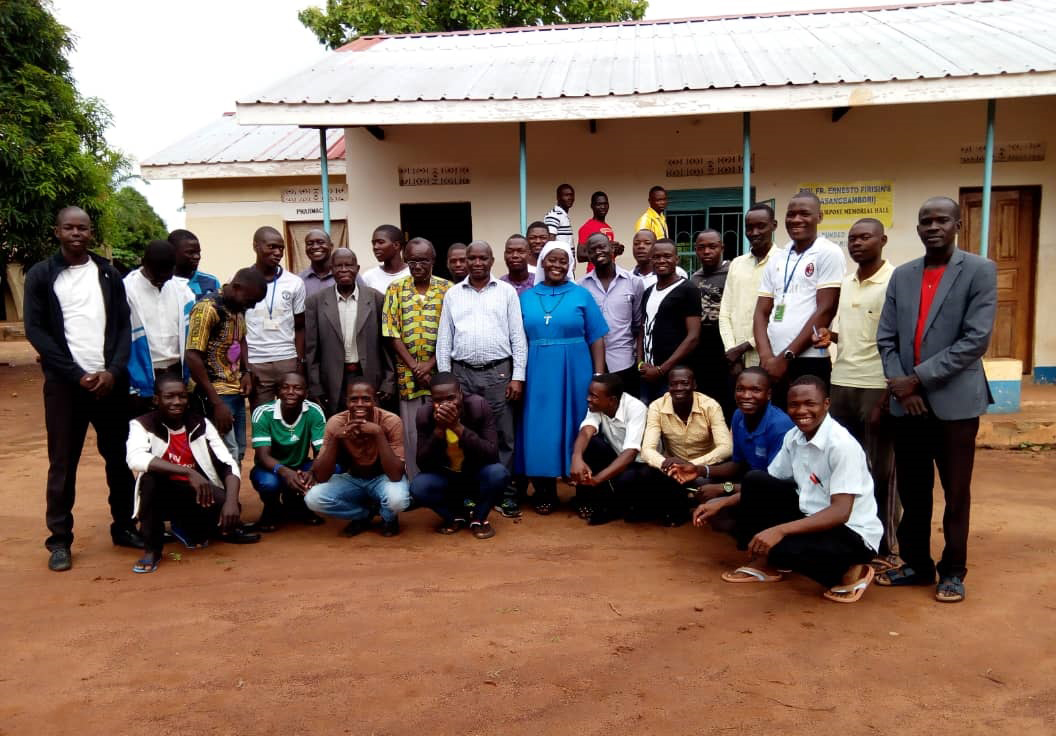 Historical Background
St. John Paul II inter-diocesan Propaedeutic Seminary was founded in the Catholic Diocese of Tombura-Yambio to respond to the needs of the local church in the formation of young men into the ministry of priesthood in the Catholic Church.  Propaedeutic is a name which has been adopted instead of Orientation Course as previously used. In the 2014 Annual Plenary the Catholic Bishops of Sudan and South Sudan decided and recommended the urgent need of opening orientation Course. It is on this basis that Sudan/South Sudan Catholic Bishops' Conference found it necessary that the seminarians should be formed at propaedeutic for at least one year before they get into philosophy. Therefore, they decided to group the dioceses into 3 each, of which Catholic Diocese of Tombura – Yambio, Wau Diocese and Rumbek Diocese were grouped together.
St. John Paul II Propaedeutic Formation was opened on 1st June 2015 with local resources from the Diocese and the good will of our Christians Community through their generous contributions. The year 2016, St. John Paul II Propaedeutic Seminary was approved by the Holy See and given the status and recognition of a formation house that has met the criteria worth of its name.
The First Rector for this Seminary was Rev. Fr. Babie Victor: he really did incredible work as a pioneer Rector. On 10th February 2017 Bishop Barani Eduardo Hiiboro Kussala appointed me to replace Fr. Victor, and I was told also to take seminary to western Deanery where it is currently operating in Mupoi.
The necessity of Propaedeutic Seminary to CDTY

The inter-Diocesan Propaedeutic Seminary prepares candidates for Philosophy. Our experience as a diocese has taught us that if boys are taken directly from Senior Seminary to  join Philosophy, some lack focus, manners expected of a  future priest may be lacking, even some vital element of discipline because they carry forward the secular mentality of Secondary school Behaviour.
This is very opposite to the behaviour of the seminarians who might have passed through Orientation Formation or Course. St. John Paul II Propaedeutic Seminary inculcates spiritual, human, academic and physical values into the candidates joining Philosophy in pursuit of Priesthood. The world now a days, more than ever needs men who are of acceptable manners and characters.
Our Propaedeutic offers this opportunity to the Candidates. We need this level for its efforts in inculcating at a very tender age what expectations are required from a Priest later on in life Since Ordination does not change anybody's manners but formation like this may help in determining the pattern of behaviour of those trained.
So far we have graduated 66 seminarians who are now in different levels in Philosophy.
Motto
The Motto of this formation House is:  "Holiness of life in prayer & work".
Disciplines

The disciplines that are covered within the nine months are:
Introduction to philosophy
Introduction to the Bible
Catholic Catechism
Human, intellectual, spiritual and pastoral and development programs
Human Communication
English Language
Handcrafts and Music
Spirituality
Personal growth (Dev. Psych)
Health Science
Justice and Peace
Self-reliance or income generation activities
Computer Science
Staff Members
The staff members of this formation house are:
| | | | |
| --- | --- | --- | --- |
| S/N | Names | Titles | Subject |
|  1 | Rev. Fr. Vairi Natale | Rector/ tutor | Catholic Catechism |
|  2 | Rev. Fr. Victor Babie | Tutor | Intro / Philosophy |
|  3 | Rev. Sister Pasquilina Sagani | | Consoling & Intro/Bible |
|  4 | Rev. Fr. Migidi Joseph | Lecturer | Spirituality |
|  5 | Mr. Peter Nazaro | Tutor | English / Human Comm |
|  6 | Hon. Sabuni Natale | Tutor | Justice & Peace / Self Reliance |
|  7 | Rev. sister Julia Kumba | Bursar | |
|  8 | James Andria | Driver | |
|  9 | Rozetta Nangoro | Cook | |
|  10 | Juliana Mihipai | Cook | |
|  11 | Martin Duba | Watch Man | |